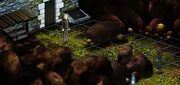 "I am only an image... I am only a regret"
-The Heroine hallucinating
The Father is the unnamed main character and plot device of Winter Voices. Name giving away the clue, he is The Heroine's father.
The Father's death shook The Heroine, and even brought her back to her village. He was ill for quite some time, dying, alone in his room, turning towards the light.
Personality
Edit
The Father was well-respected among the village, but not particuarly liked. He was said to be cold, unamused and well-read, even to arrogant levels. However, he still had great respect for many people, particuarly Olaf, a foreigner, who let him read his books - apparently, he had read the entire library two or three times.
He didn't know his daughter well, but cared very much for her, and she is shocked and scared when she can't say goodbye one last time. His last wish is to have his ashes taken back to his hometown, The Sapphire Coast, a long and ardeus journey taken by his daughter, The Heroine, so that she might finally let her feelings out.